Product Summary
The LM2577S-15 regulator is a monolithic integrated circuit that provides all the active functions for a step-down (buck) switching regulator, capable of driving a 1A load with excellent line and load regulation. The LM2577S-15 is available in fixed output voltages of 3.3V, 5V, 12V, 15V, and an adjustable output version. Requiring a minimum number of external components, the regulator LM2577S-15 is simple to use and include internal frequency compensation and a fixed-frequency oscillator.
Parametrics
LM2577S-15 absolute maximum ratings: (1)Maximum Supply Voltage: 45V; (2)Output switch Voltage: 65V; (3)Output switch current: 6.0A; (4)Power Dissipation: Internally Limited; (5)Storage Temperature Range: -65℃ to +150℃; (6)Maximum Junction Temperature: 150℃; (7)Minimum ESD ratings: 2kV.
Features
LM2577S-15 features: (1)Requires few external components; (2)NPN output switches 3.0A, castand off 65V; (3)Wide input voltage range: 3.5V to 40V; (4)Current-mode operatiofor improved transient response, line regulation, and current limit; (5)52 kHz internal oscillator; (6)Soft-start functioreduces in-rush current during start-up; (7)Output switch protected by current limit, under-voltage lockout, and thermal shutdown.
Diagrams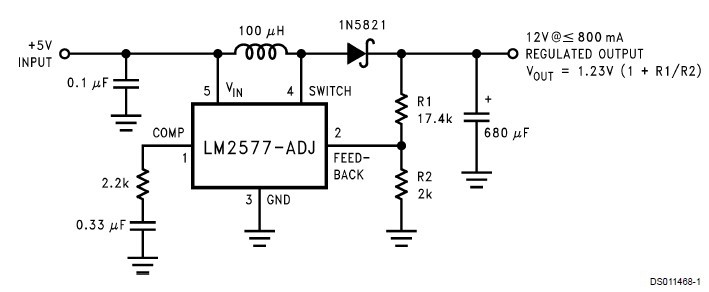 Image
Part No
Mfg
Description
Pricing
(USD)
Quantity

LM2577S-15/NOPB



IC REG MULTI CONFIG 15V TO263-5

Data Sheet

Negotiable
Image
Part No
Mfg
Description
Pricing
(USD)
Quantity

LM250

Other



Data Sheet

Negotiable

LM25005EVAL

National Semiconductor (TI)

Power Management IC Development Tools LM25005 EVAL BOARD

Data Sheet



LM25005MH

National Semiconductor (TI)

Switching Converters, Regulators & Controllers

Data Sheet



| | |
| --- | --- |
| 0-219: | $1.02 |
| 219-292: | $1.00 |
| 292-511: | $0.98 |
| 511-803: | $0.96 |


LM25005MH/NOPB

National Semiconductor (TI)

DC/DC Switching Regulators 42V,2.5A STEP-DOWN SWITCHING REG

Data Sheet



| | |
| --- | --- |
| 0-1: | $1.89 |
| 1-10: | $1.70 |
| 10-25: | $1.51 |
| 25-50: | $1.42 |


LM25005MHX

National Semiconductor (TI)

Switching Converters, Regulators & Controllers

Data Sheet



LM25005MHX/NOPB

National Semiconductor (TI)

Switching Converters, Regulators & Controllers

Data Sheet



| | |
| --- | --- |
| 0-2010: | $0.94 |
| 2010-2500: | $0.94 |