Product Summary
The MC3479P is a stepper motor driver.
Parametrics
MC3479P absolute maximum ratings: (1)Supply Voltage VM: + 18Vdc; (2)Clamp Diode Cathode Voltage (Pin 1)VD VM: + 5.0Vdc; (3)Driver Output Voltage VOD VM: + 6.0Vdc; (4)Drive Output Current/Coil IOD: ± 500mA; (5)Input Voltage (Logic Controls) Vin: -0.5 to + 7.0Vdc; (6)Bias/Set Current IBS: -10mA; (7)Phase A Output Voltage VOA: + 18Vdc; (8)Phase A Sink Current IOA: 20mA; (9)Junction Temperature TJ: + 150℃; (10)Storage Temperature Range Tstg: -65 to + 150℃.
Features
MC3479P features: (1)Single Supply Operation: 7.2 to 16.5 V; (2)350mA/Coil Drive Capability; (3)Clamp Diodes Provided for Back—EMF Suppression; (4)Selectable CW/CCW and Full/Half Step Operation; (5)Selectable High/Low Output Impedance (Half Step Mode); (6)TTL/CMOS Compatible Inputs; (7)Input Hysteresis: 400 mV Minimum; (8)Phase Logic Can Be Initialized to Phase A; (9)Phase A Output Drive State Indication (Open—Collector); (10)Pb—Free Package is Available.
Diagrams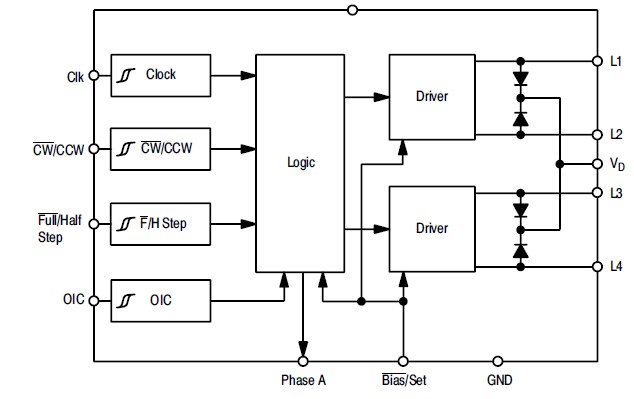 Image
Part No
Mfg
Description
Pricing
(USD)
Quantity

MC3479P

ON Semiconductor

Motor / Motion / Ignition Controllers & Drivers Two Phase Steper

Data Sheet

Negotiable

MC3479PG

ON Semiconductor

Motor / Motion / Ignition Controllers & Drivers Two Phase Steper Motor Controller

Data Sheet

Negotiable