Product Summary
The AD2S83APZ is a monolithic 10-, 12-, 14- or 16-bit tracking resolver-to-digital converter. The converter allows users to select their own resolution and dynamic performance with external components. The AD2S83APZ allows users to select the resolution to be 10, 12, 14 or 16 bits and to track resolver signals rotating at up to 1040 revs per second (62,400 rpm) when set to 10-bit resolution. The AD2S83APZ inputs signals into a parallel natural binary digital word using a ratiometric tracking conversion method. This ensures high noise immunity and tolerance of long leads allowing the converter to be located remote from the resolver. The applications of the AD2S83APZ include DC and AC Servo Motor Control, Process Control, Numerical Control of Machine Tools, Robotics, Axis Control.
Parametrics
AD2S83APZ absolute maximum ratings: (1)+VS2: +13 V dc; (2)-VS2: –13 V dc; (3)+VL: +VS; (4)Reference: +13 V to –VS; (5)SIN: +13 V to –VS; (6)COS: +13 V to –VS; (7)Any Logical Input: –0.4 V dc to +VL dc; (8)Demodulator Input: +13 V to –VS; (9)Integrator Input: +13 V to –VS; (10)VCO Input: +13 V to –VS; (11)Power Dissipation: 800 mW; (12)Operating Temperature Industrial (AP, IP): -40℃ to +85℃; (13)Storage Temperature: -65℃ to +150℃; (14)Lead Temperature (Soldering, 10 sec): +300℃.
Features
AD2S83APZ features: (1)Tracking R/D Converter; (2)High Accuracy Velocity Output; (3)High Max Tracking Rate 1040 RPS (10 Bits); (4)44-Lead PLCC Package; (5)10-, 12-, 14- or 16-Bit Resolution Set by User; (6)Ratiometric Conversion; (7)Stabilized Velocity Reference; (8)Dynamic Performance Set by User; (9)Industrial Temperature Range.
Diagrams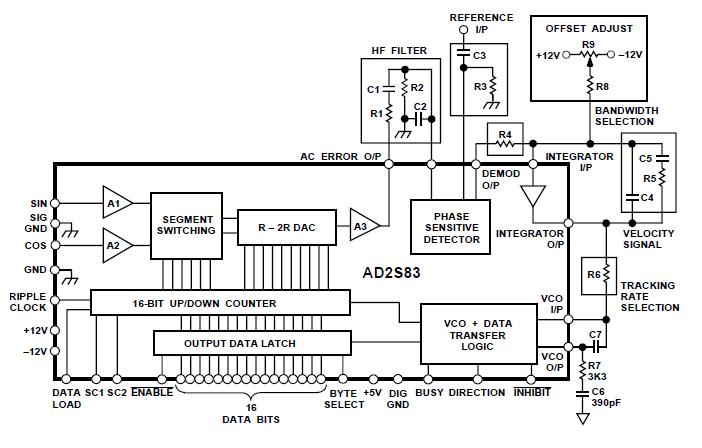 Image
Part No
Mfg
Description
Pricing
(USD)
Quantity

AD2S83APZ



IC R/D CONV TRACKING 44PLCC

Data Sheet



| | |
| --- | --- |
| 0-1: | $82.53 |
| 1-10: | $77.13 |
| 10-100: | $71.92 |


AD2S83APZ-REEL



IC CONV R/D MONO VAR RES 44PLCC

Data Sheet